"Thanks Phil for the wonderful sound" The Magnolia Sisters (Grammy Winners)
BOSE L1 LineArray 

 (available only with sound engineer) 

PA Hire 
PA Hire – A high quality front of House PA.  suitable for small to medium venues, up to 500 people.  Small bands, Acoustic bands, solo performers, Theatres, Choirs, Churches, DJs, Weddings and parties,  small to medium festival stages.
It involves minimal setup, unobtrusive speakers, high coverage, crystal clear sound, follow the links for more information about this amazing rig
Bose L1 Mark 2 with B1 bass bin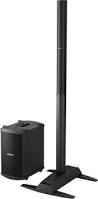 Mixing
**NEW** Behringer XR18 
18 channel digital mixing desk, wireless laptop/tablet controlled, 6 aux/monitor sends*, FX, 48V Phantom,

18 Channel live  recording to laptop (optional extra)
Mackie Pro FX 22 channel analogue mixing desk, 2 monitor sends, control room out, FX, 48V Phantom
Small Mixer (optional on request)
Soundcraft Spirit F1 14 channel notepad style mixer, 6 x XLR mike channels, 48V Phantom, no FX
16 x 4 x 10m stage snake drum mounted (depends on venue)
16 x 4 x 15m stage box and snake 
3 x 2channel Behringer Ultra-DI 120 DI boxes/splitters
2 x Orchid Classic DI boxes with monitor feeds
XLR and standard jack leads, CD/laptop/iPod leads if required
Microphones
1 x Shure SM58beta, 2 x Shure SM58, 2 x Shure SM57, 1 x AT818,
2 x AT Pro35 instrument condenser clip mikes,
1 x Sennheiser 508 dynamic clip mike
1 x Sennheiser e604 snare/tom mike
1 x Lewett DTP640REX dual element kick drum mike 
Other mics available as required
Monitoring

– see comment * above
Two Behringer Eurolive 8″ active 200W Cabs
One active Laney 10″ Monitor wedge 
One passive Laney 10″ monitor wedge with 50W head (optional on request)
1 x Beyerdynamic DT150 headphones (optional on request)
Prices from £199 for up to 6 hours

,
Add Travel rates and other expenses according to distance – POA
We don't add VAT as we are not VAT rated 
Radio Microphone
1 x Sennheiser Freeport radio headset/lavalier tieclip/ theatre skin coloured headset system £20 (specify which mic is required)
AER 50W Compact combo £15
Marshall 60W Acoustic combo £15
Carlsbro Cobra 90W bass combo £20
Lighting 
Two LED PAR cans £12 floor standing
More lighting can be supplied on request POA
Recording

(ask for rates)
18 channel recording into Logic X on Macbook Pro or Aria on iPad
1 x LR Baggs para acoustic DI £2
Korg X5 Synthesiser/Piano. 5 Octaves. £25.
Included: power unit, stand and sustain/damper footswitch
Not included: seat not provided, jack to jack cable
                           MIDI cable, jack to jack cable must be requested if required. 
CD Player

 plus cable to desk available on request £5
Stage snake

on drum 12out 4return 30m  £20
 

BASIC SMALL 

PA

– Available with or Without Sound Engineer
Soundcraft Spirit Powerstation 300W+300W 12 channel powered mixer
2xPeavey 1XT speakers and stands
1xPeavey 15″bass bin and pole
Microphones, monitoring, back line as above, as required
Prices from £95 for 6 hours

, 

PA Hire
Delivery/collection and/or sound engineer – ask for rates
We don't add VAT as we are not VAT rated 
All mains powered equipment is currently PAT tested and certificated
£10M Public Liability Insurance if accompanied by sound engineer
"We've never sounded better than when you do our sound."  The Fishwives Choir
"We thought your service was excellent. Helpful and knowledgeable. Very good, simple, unobtrusive equipment. A quick & efficient set up. You listened to our requirements and did as asked – all with good grace and a smile! Good adjustments as necessary during performance. Thanks!"  The Exmouth Shanty Men
"Thanks Phil for the wonderful sound" The Magnolia Sisters (Grammy Winners)
 "Thank you for another good service and performance. Look forward to working with you again." Osita Udenson Associates Ltd – Cricklewood Lights, Nov 2016