The Creole Brothers

The Creole Brothers are Phil Underwood, Charlie Skelton and Peter Dunhill and their mission is to bring the Louisiana spirit to British folk roots music, with a unique musical hommage to the great Louisiana Creole musicians, Bois Sec Ardoin and Canray Fontenot, Bébé and Éraste Carrière, Albert Chevalier and many others, blended with the home grown folk songs of the British Isles and their own great original compositions.
From the roots of zydeco, the push and pull, rub and scrub La La music of the Creole people. Dark, smoky, crowded clubs in Lawtell and Opelousas and Lafayette. Bodies moving closely in rhythm. Driving fiddle, pumping accordion, vocals that can cut corn bread. Blues that tear at your heart. Dances you wouldn't want your daughter to know. 
"..these three fine musicians gave the audience a rich musical feast steeped in the transatlantic traditions..What a night!!" – Acorn Folk Club
"..you don't have to import bands from Lousiana when you have a home grown band like Creole Brothers, professional, authentic and such great fun!" – Uxbridge Folk Club
" The walls are still reverberating.." Rural Touring
http://www.reverbnation.com/thecreolebrothers
Phil Underwood Solo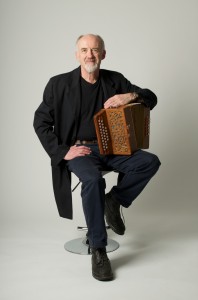 As well as his band work Phil performs solo, playing British Folk music, Irish, Cajun and Creole, Blues and Appalachian music . He is writing and performing new songs in a traditional style and, since graduating with distinction from the National Theatre's War Horse SongMan School, is planning some exciting music projects – including a solo CD – in collaboration with other Songman School graduates
Click on the following link for More info, Videos, Music and Gig List
http://www.reverbnation.com/philunderwood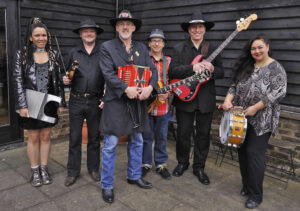 Colin and the Crawfish Cajun and Creole Band
  A kicking six-piece Louisiana Blues, Cajun and Creole roots band, Colin and the Crawfish have played at the National Theatre, London.
   Click on the following link for More info, Videos, Music and Gig List
   http://www.reverbnation.com/colinandthecrawfish
The Miri-Kools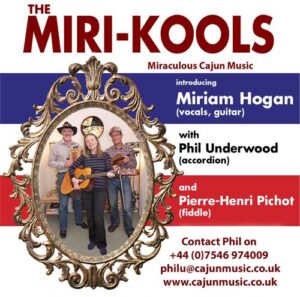 Brand new trio – Down home, front porch unplugged style traditional Cajun music. Fronted by rising Cajun vocalist/guitarist Miriam Hogan, with Pierre-Henri Pichot from France playing some of the most authentic Cajun fiddle this side of the Atlantic. With Phil Underwood on an accordion once owned and played by the great Eddie Lejeune.
Cajun style drums or triangle can be added when requested
The Fishwives
Phil is the musician playing accordion, whistle, fiddle and bodhran with the Fishwives from Leigh-on-Sea in Essex.  
www.facebook.com/TheFishwivesChoir
The Fishwives are an offshoot from the 
 FISHWIVES CHOIR which was created by fisherman's widow and mum of 4, Jane Dolby to raise money for The Fishermen's Mission with the release of a 'one off' single. The Fishwives are made up of women related to fishermen or working in the UK commercial fishing industry. Phil has featured on their single, video and has appeared with them on BBC Breakfast TV. 
Zydeco Style Dance Tuition
Cajun and Zydeco music is some of the most danceable music around and there are clubs and festivals in the UK and Europe where everyone dances to live bands. Phil is a Louisiana experienced teacher who learned Zydeco and Cajun dancing first hand in the clubs of Louisiana. His simple yet effective teaching technique enables the basics to be picked up in about ten minutes. After that he teaches lots of fun things you can do with the dance, and the world's your crawfish