LATEST
Creole Brothers news- just back from our first set of Rural Touring gigs in November, playing to mainly rural audiences in village halls and churches. The band had a wonderful time, visited some beautiful places and met some great audiences. Having been used to playing for dance audiences it was enjoyable for the band to be able to give a show that had more chat and non dancing numbers. All of the audiences were friendly and appreciative and the feedback was all positive. We'd love to do it again. Here are some of the comments we had
"..brilliant musicians … fascinating background information to all their numbers.. individual compositions were excellent. Couldn't have had a better evening."
"EXCELLENT – music great..audience wanted more"
"Excellent..A pleasure to host them..professional show"
"Thoroughly enjoyable evening"
Eurocajun Allstars
Phil appeared with top French Cajun musicians at the 2014 Saulieu Cajun and Zydeco Festival in a new band, the Eurocajun Allstars
Line up: Phil Underwood, accordion; Vincent Giarrusso, fiddle; Samuel Giarrusso, drums; Eric Martin, steel guitar; Christian Feve, rhythm guitar
Louisiana Mardi Gras
Phil recently visited Mardi Gras in Louisiana, guesting with Jeffery Broussard and the Creole Cowboys, Cory Arceneaux and other friends and bands.
Fishwives Choir
Phil is one of the musicians on the new single by the Fishwives Choir from Leigh-on-Sea. Released in August 2013 it raises money for bereaved families of fishermen lost at sea. On the single Phil plays melodeon, whistle, fiddle, viola and bodhran. He played melodeon live on the Fishwives' appearance on BBC Breakfast TV and recording for the BBC World Service in August 2013. In December 2013 it was shortlisted for the BBC Radio 1 Christmas Number One Single, making the top 100.
More details, buy the single and get latest news from these links:
War Horse Songman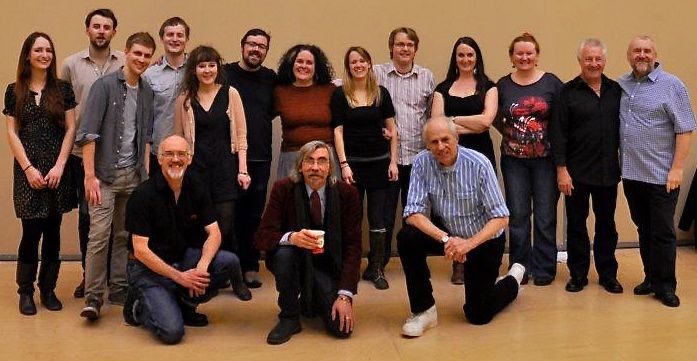 One of ten nationwide applicants selected for the March 2012 War Horse Songman School at the National Theatre, London, studying folk music for the stage under celebrated folk artists John Tams, John Kirkpatrick, Nancy Kerr and Chris Parkinson. Graduated with Distinction. Following up from the Songman School Phil was chosen by the National Theatre to audition for the part of Songman in War Horse for 2013.